Jar Opener for Weak Hands, Silicone Bottle Opener,3-IN-1 Jar Opener,Screw Capper, Handy Beer Bottle Cap Opener - kitchen Twist Tool Opener of Any Size,Non-slip and Labor Saving.
Labor-saving: This bottle opener is easy to quickly open the bottle cap, greatly saving us the time to meet delicious, let us forever get rid of the bottle cap difficult to open the troubles.
Multi-purpose: This jar opener with different jar grips.Beer opener The small bayonet of the bottle opener can open the cap suitable for Coca-Cola and other drinks;Silicone large bayonet can open suitable for large cans, jam jars, jelly jars, etc.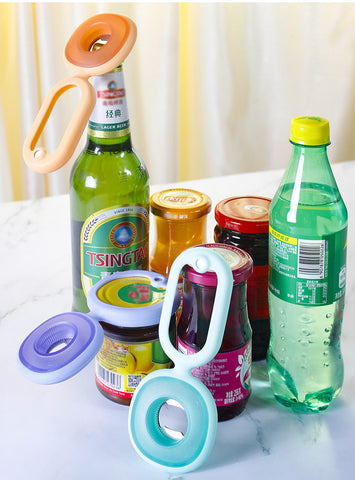 Convenient Storage: This bottle opener adopts humanized design and can be hung up after use without taking up space.
Healthy Environmental Protection: Soft silicone material, antiskid and labor saving, safe to use.